Can you believe its already November? No, me either! This year has flown by and i'm sure November will to, leading us to December which means... Christmas! I
Love
Christmas and everything about it seeing friends and family, buying people gifts and of course choosing some gifts for myself...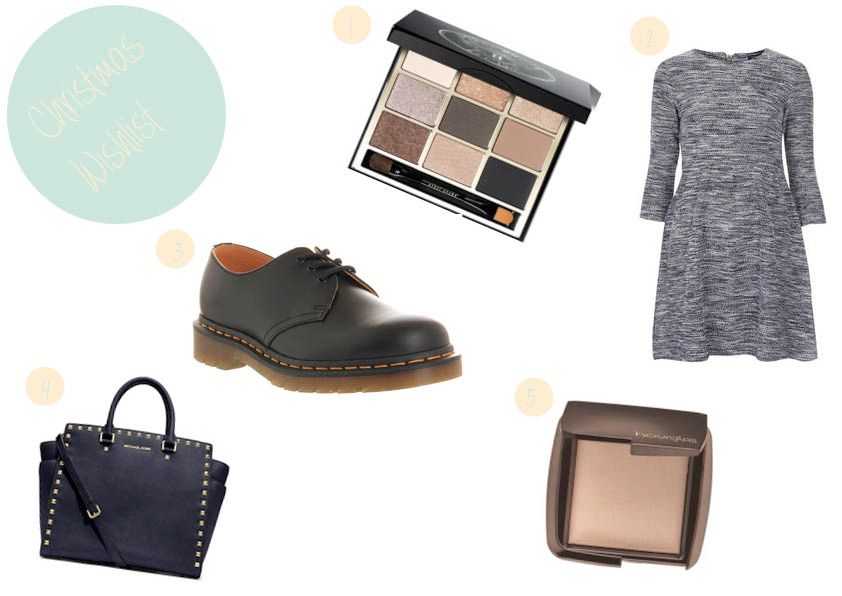 1.
Bobbie Brown- Old Hollywood eye palette
Bobbie Brown have had some amazing realises this year and this is another one to add to it. The Old Hollywood eye palette is home to some of the most beautiful shades i've ever seen, at £59 for six shades I might have to pick something else.
2.
Topshop- Boucle Skater Dress
I wear either a skater dress or skater skirt almost every day, so this gorgeous one from Topshop is great for me and the winter. With 3/4 length sleeves and a lovely autumn/winter colour its perfect- £38.
3.
Dr. Martens- 3 Eyelet shoe
I don't want to admit this but last time I counted I had near on 70 pairs of shoes in my wardrobe, but I find myself wearing my Cherry Red Dr. Martens almost everyday, there comfy, warm and practical. I think I need a black pair in my life- £90.
4.
Michael Kors- Selma Studded Tote
Look at it, its beautiful. Theres just something I love about the Selma Tote bag and when I saw a studded one my heart melted just by looking at it. At £350 I think i'll have to buy this for myself!
5.
Hourglass- Ambient Lighting Powder
I've seen nothing but good reviews on this for the past four or five months so obviously I want to jump on the bandwagon and try it out for myself- £38.
What's on your Christmas list this year?