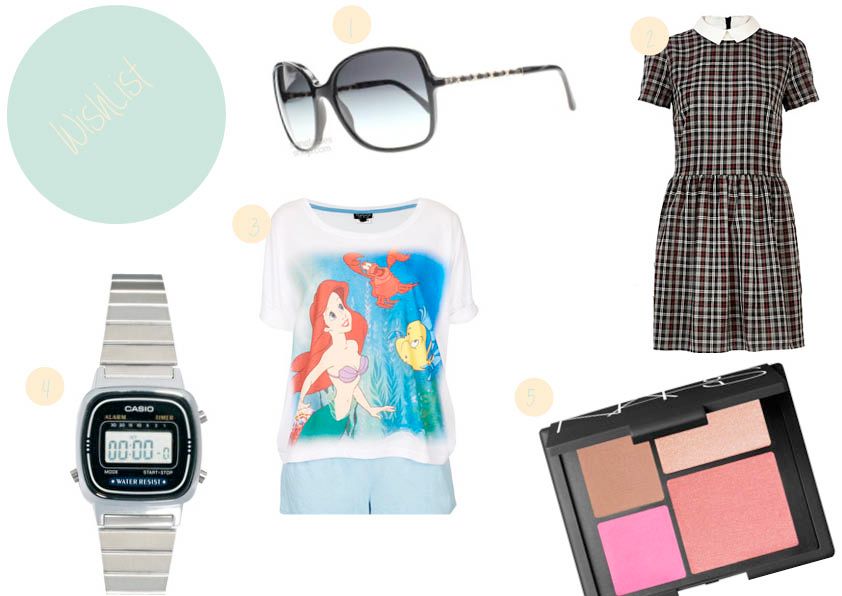 I love having a look around at what things I want to buy, which is why I love looking at other peoples wish lists and love doing my own! Heres a few things that have caught my eye recently.
1. Chanel Sunglasses
(£300) I tried these on a few months ago in Liberty's and i've been day dreaming about them ever since. They were jus the most perfect sunglasses. Ever.
2. River Island Check Dress
(£25) Oh, shook horror. Another check print dress, do I really need another one... Yes.
3. Topshop Pyjamas
(£20) I have an endless amount of pyjamas, but these Little Mermaid ones are just far to cute to pass up on.
4. Casio Watch
(£30) I've wanted a cute little Casio watch for such a long time now but i've never got around to getting one, but i've got a few vouchers for Goldsmiths so I think i'll get one soon.
5. NARS blush pallet
(£30) I do love a NARS pallet as much as the next girl, and I really love this one at the minuet, its such a great mix of shades too!